live webinar
Furniture Industry's Next Wave of Digital Innovation Fueled By 3D Visualization
Wednesday, September 20, 2023 | 11AM EST, 4PM BST, 5PM CET
3D product visualization is making waves in the furniture industry, changing the way we perceive, appreciate, and interact with furniture designs. A recent Forrester study, commissioned by Cylindo, delves into the heart of this digital evolution, analyzing the journey of an industry as it leans into groundbreaking technologies such as AR, VR, AI, and particularly, 3D visualization.
Join this webinar to find out more about how these tools are overhauling strategic thinking, reimagining customer experiences, and fueling business advancement.
Guest speaker: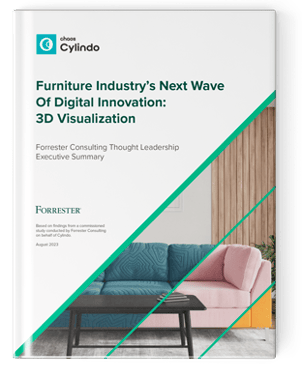 X
About Michelle Beeson
Michelle is a senior analyst serving customer experience professionals. Her research focuses on omnichannel customer experience, digital trends, and digital commerce strategies for consumer-facing brands, including luxury. During her time at Forrester, as a consultant and an analyst, Michelle has worked with a wide range of clients to help them understand how digital technology and changing consumer behavior and expectations are impacting organizations and transforming business models. Michelle is based in the UK and has global coverage.
In addition to speaking at Forrester events, Michelle speaks regularly at national and international conferences. Her research has been quoted in general business media such as the Wall Street Journal and specialist publications such as Retail Week and Customer Experience Magazine.
Previous Work Experience
Michelle first joined Forrester in 2011 as a part of the consulting team aligned with the eBusiness & Channel Strategy team. In this role, she was involved in a number of digital strategy projects across industries. After transitioning to an analyst role, she published research and advised clients on retail topics including omnichannel commerce and the future of the store. Prior to joining Forrester, Michelle was a senior research executive at Synovate UK (now part of Ipsos Mori), developing and delivering quantitative and qualitative primary research studies into customer attitudes and behavior across industries. Prior to her role at Synovate, Michelle worked in academic research at the Family Research Centre and the Autism Research Centre (ARC) at the University of Cambridge.
Education
Michelle holds a degree in social and political sciences (MA, Cantab.) from the University of Cambridge. She also holds an MRS Advanced Certificate in market and social research practice along with a PRINCE2 foundation certificate in project management.